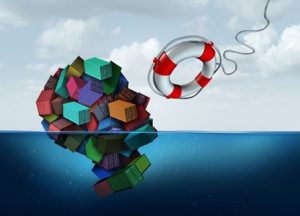 Does your business specialize in shipping items domestically or internationally? If so, you should have a cargo insurance policy in place to protect your shipments in the event they are ever damaged or lost. Cargo insurance can give you coverage from everything from minor accidents to natural disasters and even acts of war. There are two main types of cargo insurance available. Let's take a closer look at them.
Land Cargo Insurance
As its name would suggest, this type of cargo insurance is designed to cover shipments that are made by land. Anything shipped in a truck, van, or rail would be covered by a land cargo insurance policy. When traveling by land, your shipment could be susceptible to theft, collusion, accidents, and more. Land cargo insurance will ensure you don't have to deal with the consequences of these risks when you ship something and cover the costs that come along with replacing damaged or lost cargo sent by land.
Marine Cargo Insurance
While land cargo insurance covers items shipped by land, marine cargo insurance can cover items shipped by ocean and air, including the shipments to and from the seaport or airport. There are many risks outside of the ones covered by land cargo insurance associated with land and air shipments. Your shipments could be susceptible to cargo loading issues, weather problems, piracy, and more when you ship something by boat or plane. Marine cargo insurance can ensure you don't have to pay the ultimate price for it.
Regardless of how you plan to ship an item, obtaining cargo insurance will give you an extra layer of protection and provide you with the peace of mind that comes along with it. At TJO Cargo Insurance, we can offer you a great rate on our freight services. Call us at 904-781-6531 today to obtain a quote on your preferred type of cargo insurance.