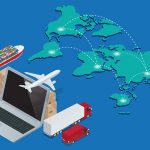 Whether you're sending a small shipment a few states away by land or putting together a large shipment that's going to travel halfway across the world by air or sea, you should always invest in land, air, and marine cargo insurance. You never know what might happen to your cargo while it's working its way from point A to point B. Here are a few of the reasons why land, air, and marine cargo insurance is so important.
Cargo Insurance protects you in the event your cargo gets damaged.
No matter how far your cargo is going to be traveling, there is a chance that it could get damaged somewhere along the way. It can happen during cargo loading or unloading. It can also happen when your cargo is en route due to weather conditions. Whatever the case, land, air, and marine cargo insurance will ensure you and your cargo are protected.
Ocean Cargo Insurance covers you in case your cargo gets lost out at sea.
The idea of cargo getting "lost at sea" might not sound very plausible to you, but it does happen! There are hundreds of cargo containers that end up lost at sea every year for one reason or another. If your cargo ends up getting lost, you could lose a fortune if it isn't insured. You'll be kicking yourself for years to come if your cargo ever goes missing.
Cargo insurance even helps you if your cargo is stolen by pirates or other thieves.
In recent years, there have been more than a few stories about pirates and other thieves hijacking cargo ships and trucks and making off with them. As long as you have land, air, and marine cargo insurance on your cargo, you won't have to worry about stolen cargo keeping you up at night. It'll be protected as long as you purchase the right cargo insurance policy.
Do you need help picking out the best cargo insurance policy for your next cargo shipment? Let TJO Cargo Insurance show you which policies might be right for you based on the type of cargo you're shipping and your shipping method. Call us at 904-781-6531 today to get started.